Yes, this is your app and you should have your logo there.
The Blappsta logo is a default logo in the plugin, which you should and need to exchange with your own logo. If you see this in the Blappsta Preview app: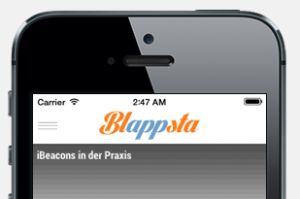 then you need to change it to your own. Please prepare an image including your logo or brand in the size 472×80 px.
Then go into our plugin settings. There is a field called "set logo":

Please upload your logo here. Make sure to hit save,…only then the logo is entered into the system. You will see your logo in the Blappsta Preview app instantly.